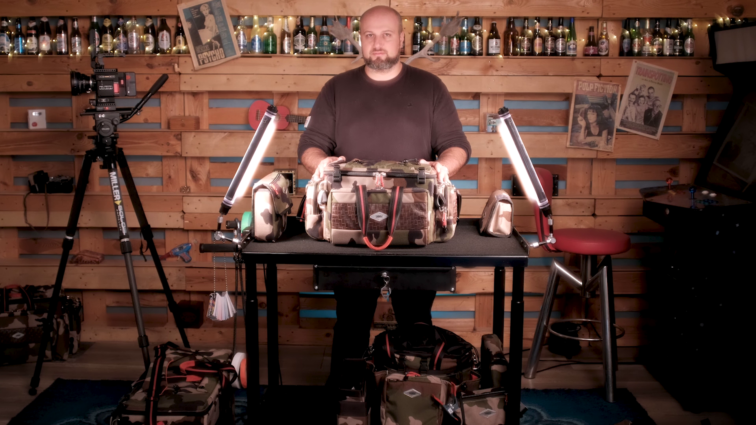 Every cinematographer has tools that go into their bag, even if they're working as part of a team. There are things that you just know you'll need if you want to be successful as a Director of Photography. Everybody's list is going to be slightly different depending on what they shoot, but it's a good thing to think about it just so you're not caught off guard.
We thought about that in order to help you and we created a list of five elements (plus one) that cannot be missing from a Cinematographer's bag.
Multitool: an item with a variety of pliers, replaceable wire cutters, wire stripper, plain and serrated knives, saw, spring-action scissors, ruler, can and bottle openers, files, and screwdrivers, that only requires one hand to open and use, to be prepared to fix anything.
Small Led Light: a portable handy tool that will be able to throw a little bit of light in a dark pocket at a location without overpowering the main lights on the set.
Smartphone: an item that may seem foregone, with an unreal number of apps available and helpful for photo and video use, such as the sun seeker that will allow you to see the course of the sun's position through out the day. It's far more than "just a phone", when used right, it can become a valuable tool for Cinematographers and DP.
Light Meter: an essential tool for quickly and accurately metering the light; it will be a fantastic aid in lighting your scenes and especially for relighting, matching, inserts and close ups.
Tripod: a support consisting of three rods joined to form the profile of a tetrahedron, made of a metallic, plastic material, which allows stability and control of the positioning of the camera in different situations and on uneven surfaces.
Plus One: a Camera (obviously needed).
Essentially this is the bag which contains the kit that you bring on set every day, that you can't work without. As we mentioned, each person will have their own bag just tailored to his own needs.
Regarding that, Andrea Toy Bonvicini shared what he likes to keep into his own DP Bag, go find it out on YouTube clicking the video below:
Miller Tripods, a leader in the production of innovative camera support solutions, will unveil its new CiNX series, a new line of Fluid Heads at IBC 2019. The series is composed of durable and lightweight fluid heads packed with features designed to meet all the needs of a cinematographer at an affordable price. CiNX 3, CiNX 5 and CiNX 7, the tree variations of CiNX line, will have a wide payload range that is going to enable accurate counterbalance of multiple camera sizes, lenses and accessories, increasing the flexibility of use.
With a payload range from 1kg (2.2lbs) to 19kg (41.8lbs), the new CiNX 3 is ideal for meeting the needs of cinematographers with lighter rigs, requiring less pan and tilt drag (5+0 positions). The second variation, Miller's new CiNX 5 fluid head has a payload range of 2kg (4.4lbs) up to 21 kg (46.2lbs) and pan and tilt drag 7+0 positions—ideal for lighter rigs that require more pan and tilt positions. Last but never least, the CiNX 7 is the ultimate fluid head for heavier rigs that require more positions of pan and tilt drag, with a larger payload range of 6kg (13.2lbs) to 25kg (55.1lbs) and pan and tilt drag 7+0 positions.
All the variations of Miller's new fluid head lineup feature a sideload platform, with safety lock, which enables the rapid deployment of several sizes of camera rigs, as well as an extended camera plate range of movement to balance front-heavy setups. Additional features of CiNX Fluid Heads include large brake lock levers and a single heavy-duty telescopic pan handle, with an optional second pan handle mount for increased control. For simplified mounting, the CiNX fluid heads are adaptable to a Mitchel base plate (100mm or 150mm ball leveling) and include a removable ball level stud, which allows for flat base mounting with 3/8" screw thread.
A key feature of the CiNX series is Miller's patented 16 CB Plus™ technology, a unique sequential counterbalance design resulting in accurate and rapid setup. With 16 positions of counterbalance, the new series provides very fine, repeatable balance, which is ideal for cinematographers requiring frequent and fast re-rigging. To ensure smooth capture, the CiNX range deploys a fluid drag system, with smooth start and soft stop technology, and balanced diagonal transitions, as well as precise floating pan-tilt caliper locks to ensure bounce-free on-off performance. It also features illuminated bubble level and pan-tilt drag controls,making Miller's new fluid heads an ideal solution for environments with limited light source. To further improve the user experience, the pan, tilt drag and counterbalance controls are all located at the back of the head in one location.